Welcoming Friends & Family
Fall brings so many wonderful opportunities to invite people into your home; football games, Halloween, and of course, Thanksgiving! I love having people in my home and always strive to be a gracious hostess and make people feel comfortable while in my family's home
First, let's talk about inviting friends and family into your home. Sending out paper invitations is such a classic way to invite people into your home; but in today's world it can be unexpected. Paper invitations are more personal than an evite, and they set the tone for people to feel welcome. You could send out invites for football watch parties, Halloween parties, or even Thanksgiving. Your family probably already knows if they are invited to your home for Thanksgiving, but it can be such a nice touch to receive a personal invitation in the mail.  My sister has her own invitation business, and does wonderful custom invites for any occasion.  Mention this blog post and receive 10% off your order!  View her work here. Below are some of my favorite fall invites.
All invites pictured are from Tinyprints
Now that you have invited all of your guests, let's talk about how to make them feel welcome once they arrive. It is always nice to be greeted with a drink. This can be something as simple as a soda, or as detailed as a signature cocktail, depending on the mood of your event. If this is a casual get together, I usually serve the food buffet style, and let my guests eat as they wish. If I am hosting a more formal event, such as Thanksgiving dinner, I set the table. Here is a diagram that I use to help me remember where exactly things should be placed.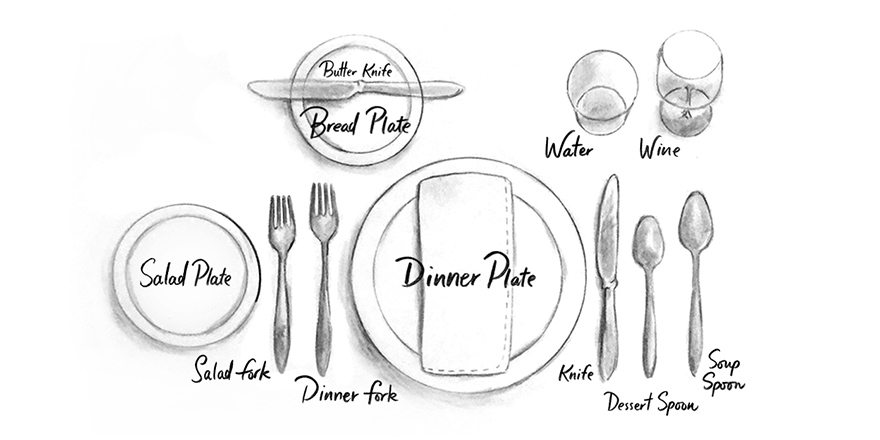 If the meal is being served at the table, I always like to create a table scape that fits the theme of the evening.  Here are some great ideas below.
Click on the pictures above to see more of these beautiful table settings!