Color in Interior Design and Fashion
I always enjoy following color trends for each season. And especially seeing the crossover of color trends in interiors and fashion. As we bring a close to this fall season, here's what I've learned about this season's scheme… BLUE.
The director of the Pantone Institute, Leatrice Eiseman, says, "The desire for tranquility, strength, and optimism have inspired a Fall 2016 color palette that is led by the blue family."
If you're unfamiliar with Pantone, it is the world-renowned authority on color. The PANTONE® name is known worldwide as the standard language for color communication from designer to manufacturer to retailer to customer.
The PANTONE FASHION, HOME + INTERIORS Color System is a vital tool for designers in the apparel, home furnishings and interior design industries for selecting and specifying color used in the manufacture of textiles and fashion. The System—consisting of 2,310 colors in cotton or paper format—is ideal for assembling creative palettes and conceptual color schemes, as well as for providing color communication and control in the manufacturing process.
Isn't that just so interesting? So that new shirt you bought this fall and those new throw pillows on the sofa…it is certainly no coincidence they might have common theme. And if you're really in tune to the fashion trends, you might just blend in with your trendy wallpaper, rug or drapery fabric.
Here are just a few photos after browsing favorite sites showing the blue scheme represented in both interior and fashion.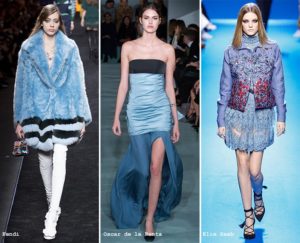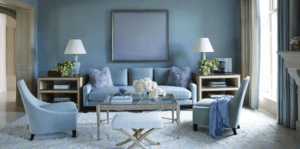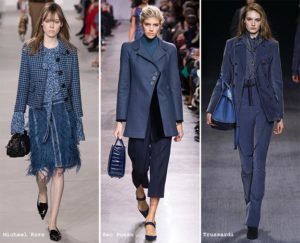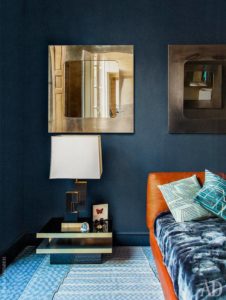 And check out these mood boards , courtesy of Pantone – pantone.com